Incoterms as an important aspect of international transport.
Incoterms stands in a short way for International Commercial Terms. They are binding for both seller and buyer of the goods and are part of the contract. Current Incoterms set 11 rules defining the tasks, risks and costs involved during the transaction of goods from seller to buyer.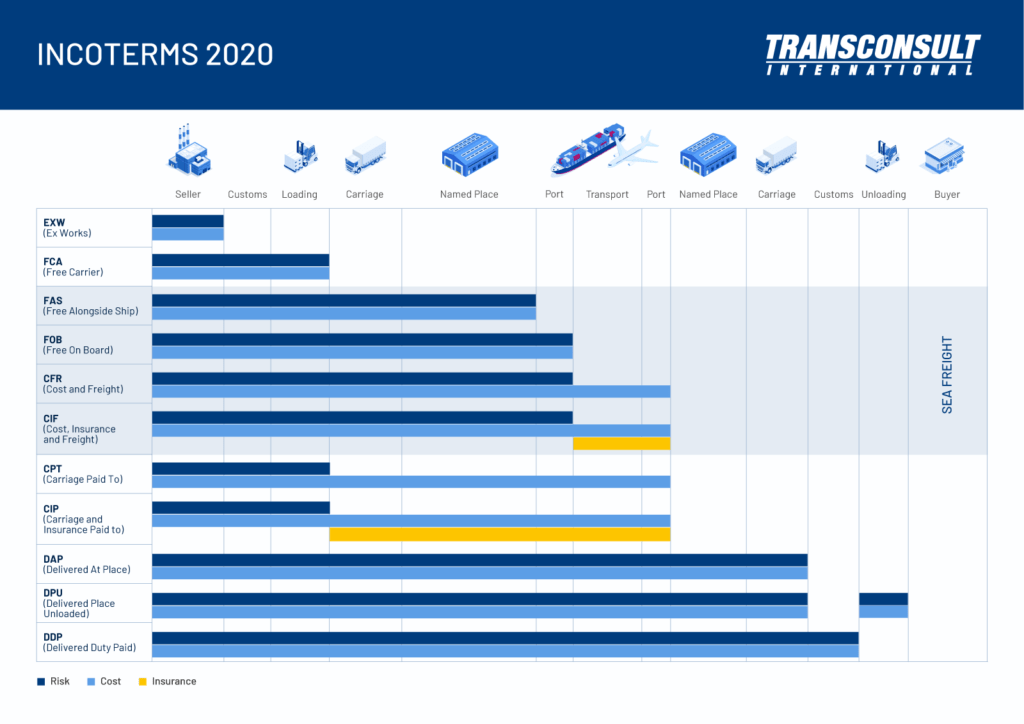 Differences between Incoterms 2010 and 2020:
International Chamber of Commerce (ICC) released new version of Incoterms, which came into effect on 1st January 2020.
Main differences:
FCA (Free Carrier) – Buyer can now give instructions to the carrier to release the Bill of Lading to the seller after the goods was loaded on a vessel.
CIF (Cost, Insurance and Freight) was binding for the seller to insure the cargo at least for minimum coverage of clause C (listed risk, subject to itemized exclusions). Now for the new CIP (Carriage and Insurance Paid to) terms is the seller requested to insure the goods at least with the minimum coverage of clause A (All risks, subject to itemized exclusions).
FCA (Free Carrier), DAP (Delivered at Place), DPU (Delivered at Place Unloaded) and DDP (Delivery Duty Paid) now states that the goods can be transported by directly owned means of transport without assigning any other third party carrier.
DAT (Delivered at Terminal) was changed to DPU (Delivered at Place Unloaded). Goods can be delivered not only to the terminal but to any other place in destination country as well (e.g. factory or warehouse).